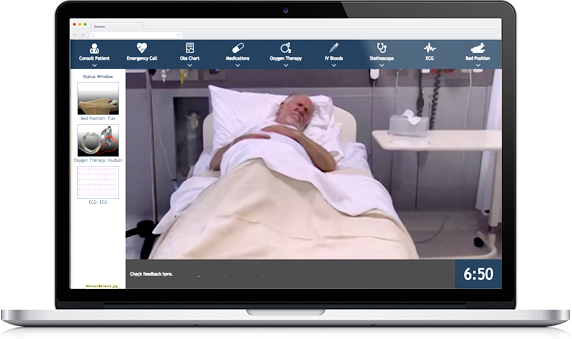 AN ONLINE SIMULATION LEARNING PACKAGE

First2ActWeb is an interactive video simulation software that allows students and professionals to practice medical emergency scenarios in an engaging but safe environment. The scenarios consist of a range of common emergency situations that occur within a hospital/home. Scenarios can be repeated as often as needed, greatly assisting in preparation for face-to-face training or examinations.
The First2ActWeb is a well-developed program originally created in 2012, it has been widely tested with university nursing students and qualified staff. Data indicates a significant impact on educational outcomes with notable improvements in the knowledge and skills required to manage deteriorating patients. [1] Within the past five years, numerous published evaluations of the program exist, all of which demonstrate significant educational impact. [e.g. 2-5]. Importantly, during 2017, we completed a study that reviewed the clinical impact of the First2ActWeb program, focussing on the degree to which qualified nurses changed their practice. From a review of vital sign charts and patient notes, we identified that hospital nurses were notably more likely to activate a clinical review, and to manage their patients more applicably, e.g. oxygen delivery and charting pain scores [6].
In addition, the web-based program proved as effective as a similar face-to-face program, costing significantly less to run. [6] However, web-based programs do not offer the direct feedback that students often need, and practicing a skill on a computer screen lacks the 'hands on' element of training. For this reason we recommend a combination of web-based and face-to-face educational approaches, where web-based training compliments and improves the face-to-face outcomes.
As at October 2017, a total of 15,000+ people completed Version 1 of the First2ActWeb program. Nursing, medical and paramedic participants from across the world took part, including the UK, USA, Canada, Australia, South Africa, New Zealand, Hong Kong and Singapore. [5] Qualified hospital staff, college and university students have benefited from the program from leading international centres such as Monash University and The University of Queensland in Australia; The St John of God private hospitals group (Australia); Hong Kong University; University of Brighton (UK) and MacEwan University (Canada).
We hope you enjoy the updated 'Version 2' program, which now includes additional 'adult' deterioration scenarios and a new obstetric deterioration management program.
Please complete the evaluation once you conclude, so that we can continue to enhance the quality of the program.
Please note a small fee is charged for access in order to continue support for the program.
Why is this education program important?
Evidence demonstrates that the recognition and management of deteriorating patients is a problem throughout the world, and contributes to many adverse outcomes. Patients can also be unsure as to when to call for help.
Sudden deterioration does not occur very often, so healthcare staff can become deskilled in the management of emergencies.
– Professor Simon Cooper
The best way to resolve this issue is to practice in simulated settings. In this website we provide materials for face-to-face training and online simulation learning packages for healthcare staff relating to adult, obstetric and paramedic emergencies (F2AWeb). Also available is interactive materials to help asthma sufferers manage acute asthma events (F2A Patient).
All the programs
FIRST2ACT™ (Feedback Incorporating Review and Simulation Techniques to Act on Clinical Trends) are programs developed in a variety of studies with nurses, midwives and paramedics, with demonstrated impact on educational outcomes and clinical practice (please see the full list of publications).
Programs available on this site are broadly applicable to international healthcare students and staff (and to patients with asthma).
F2A Face-2-Face
F2A Web (Adult/Obstetric emergencies)
F2A Web (Paramedicine)
F2A Web (Physiotherapy)
F2A Patient
$0

$15

/year

$15

/year

Contact us for a quote

Free account
Student account
Nursing account
Institutions
Simulation Scenarios
1
7
7
7
Memberships
1
1
1
50-1000+
Multiple choice quizzes
1
All
All
All
Repeat multiple choice quizzes
–
Repeat scenarios attempts
–
Certificate of completion
–
Member performance statistics
–
CPD proforma
–
–
Download member performance data
–
–
Member reminders
–
–
–
Weekly/Monthly reporting
–
–
–
Data support for further analysis
–
–
–
Customer Support
Email
Email
Email
Email/Phone
30-Day Money-Back Guarantee
Contract
Disclaimer
These materials including the associated course manual are intended for use only as part of the FIRST2ACT program which is available in face-to-face and web-based versions. The authors take no responsibility for any adverse event arising from use of these course materials. While the actions described are considered by the authors to represent best practice, users of these resources are advised to check relevant protocols in each clinical setting, as these may vary. See full terms and conditions of use. By proceeding you are confirming your consent.
Data Collection
Please note that performance and evaluation data is collected from this site and may be used in anonymised research reports. When a specific study is in progress a link to the full explanatory statement will be available below.
No studies are currently underway
For all technical enquiries please contact Ruben Hopmans. For clinical enquiries and updates please contact Simon Cooper.
Who We Are
The FIRST2ACT programs have been led and developed by Professor Simon Cooper and Ruben Hopmans.
We would like to acknowledge the assistance of the FIRST2ACT program contributors, in particular Dr Robyn Cant (Federation University Australia), Dr Alison Beauchamp (Deakin University), A/Professor Fiona Bogossian (The University of Queensland), Professor Ruth Endacott (Monash University), Professor Leigh Kinsman (The University of Tasmania), Professor Lisa McKenna (LaTrobe University) and Dr Joanne Porter (Federation University Australia).
Funding has been gratefully received from the Nurses Board of Victoria, Equity Trustees: Walter Cottam Endowment Fund, Monash University, regional hospital funding, the Australian Learning and Teaching Council, the Office for Learning and Teaching, the Australian Department of Health and the Department of Health (Victoria).

HEALTH EDUCATION CONSULTANT
Professor Simon Cooper
RN, PhD, MEd, BA, FHEA
Since 1993 Professor Cooper has worked on numerous research and education projects in the area of acute care, including simulation approaches, assessment measures, leadership and teamwork tools and education evaluations. He has a track record in funded research and project management with 29 recent grant awards. Over the last 10 years he has focused on the management of patient deterioration and has successfully completed a range of studies examining nurses, midwives and paramedics' abilities to manage the acutely ill, all of which have had a significant impact on learning outcomes. His 100+ publications include text books on clinical skills, games for teaching and learning in the health sciences, and peer review journal publications in emergency and education fields. These include simulation education, team leadership, patient deterioration, research methods and systematic reviews.
PROJECT COORDINATOR & LEAD EDUCATION DESIGNER
Mr Ruben Hopmans
BMultimedia, MIT(Research) : MONASH UNIVERSITY
Ruben Hopmans has developed a number of online platforms that are similar to the First2Act project. One major project was the TAC/VWA Early Intervention Physiotherapy Framework (EIPF) training environment, where physiotherapists work through online video modules that cover a range of outcomes stipulated by the TAC/VWA. This 2-3 hour program has been completed by 1700+ physiotherapists.
Other projects include an online cognitive performance indicator that measures changes in a persons cognition over time. The aim is to provide evidence for early recognition of cognitive diseases such Parkinson's.
Ruben has a variety of development experience such as the development of an online game about the deforestation of Borneo for Geography Teachers Association of Victoria and visualisation design work for History Teachers Association of Victoria 'Revolutions in History' book series to match the new Australian Curriculum.
Cooper S. Bogossian B. Porter J. Cant R. (2014) Managing patient deterioration: enhancing nursing students' competence through web-based simulation and feedback techniques. OLT. ISBN: 978-1-74361-581-2 [PDF] http://espace.library.uq.edu.au/view/UQ:335695/UQ335695.pdf
Bogossian F. Cooper S. Cant R. Porter J. Forbes H. and the FIRST2ACT™ Research Team. (2015) A trial of e-simulation of sudden patient deterioration (FIRST2ACTWEB™) on student learning. Nurse Education Today – 35. 10. 36-42. On line at: http://www.sciencedirect.com/science/article/pii/S0260691715003275
Cooper S, Cant R, Bogossian F, Bucknall T, Hopmans R. (2015) Doing the right thing at the right time: Assessing responses to patient deterioration in electronic simulation scenarios using Course-of-Action analysis. Computers, Informatics, Nursing, 33(5), 199–207. DOI: 10.1097/CIN.0000000000000141
Sparkes L. Chan M. Cooper S. Pang M. Tiwari A. (2016) Enhancing the management of deteriorating patients with Australian on line e-simulation software: Acceptability, transferability and impact in Hong Kong? Nursing and Health Sciences. 18; 393-399.
Cooper, S. J., Hopmans, R., Cant, R. P., Bogossian, F., Giannis, A., & King, R. (2017, November). Deteriorating patients: Global reach and impact of an E-simulation program. Clinical Simulation in Nursing, 13(11), 562-572. http://dx.doi.org/10.1016/j.ecns.2017.06.004.
Cooper S. Kinsman L. Chung C. Cant R. Boyle J. Cameron A. Cash P. Connell C. Evans L. Kim JA. McKay A. McInnes D. Norman L. Rotter T. The impact of face-to-face and web-based simulation on patient deterioration and patient safety. 2017. ISBN 978-1-876851-972 (eBook) https://first2act.com/publications-and-resources/ and https://vicknowledgebank.net.au/resource-library/project/the-impact-of-face-to-face-and-web-based-simulation-on-patient-deterioration-and-patient-safety